$25,000 Grant has a very tight timeline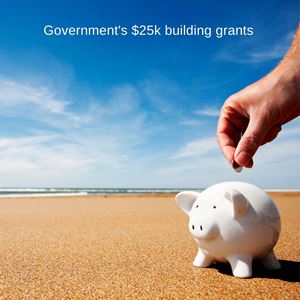 Thinking of building?
Many people are now considering renovating or building a new house because of the federal government's $25k grant initiative.  Few people realise the timeline required to get that contract signed before December 31st 2020.  Consider the following timeline if you were to contact us on 1st July 2020;
 Realistic Timeline
Initial phone call to our office about your renovation. (1st July) We advise you to request your plans of the existing house from council prior to meeting (2 weeks wait)
Initial free consultation in our office 15th July
Quote prepared same day & you sign an agreement to start the design work after some consideration (1 week) 22nd July
Site measure completed 5th August (2 weeks depending on workflow)
Existing conditions plans ready (1 week) & another meeting scheduled to discuss the design of the renovation 12th August
Design sketch completed (1 week) & presented to you 19th August
Design given the go ahead after some tweaks (2 weeks) 2nd September
Town Planning Drawings completed & submitted to council 9th September (1 week)
Council finally approved the planning permit 11th November (2 months is very short for them considering they are currently working remotely)
Working drawings completed & engineering consultants requested (2 weeks). Plans emailed to client & sent to your builder for quoting 25th November
Engineering received back 9th December & forward to builder (2 weeks)
Builders quote received 16th December (1 week)
Signing of contract with selected builder after making some amendments to inclusions 23rd December (1 week)
Christmas!
Conclusion
Now this timeline is reliant on the building design company being able to fit you in the workflow during a high demand period as everyone else is thinking the same thing.  Also dependent on council approving a permit in 2 months (unusually fast), & the builder having a quote ready just before Christmas in 1 week.
What this all boils down to is; if you want this grant you need to act now!
POPULAR POSTS